As the calendar turns to 2012, we close the book on a historic sports year. Here's a list I put together of the five best, worst and most creative sports business stories of 2011.


The Good
The NFL extended TV rights agreements with CBS, Fox and NBC for a total of $27 billion over the next nine years. The league also extended ESPN's Monday Night Football contract for $15 billion over eight years. Annual NFL TV revenue is expected to reach $7 billion a year by 2014.

The New Meadowlands may have landed MetLife for a naming rights partner, but the biggest stadium entitlement of the year – and sports business history –belongs to Farmers Field. With neither the commitment of a NFL team nor a shovel in the ground, Farmers Insurance signed a 30-year, $600 million for the proposed downtown L.A. stadium.

NBC bet big to keep its Olympic TV rights, securing rights to the four Olympics Games from 2014-20 for $4.38 billion. According to NBC Sports Chairman Mark Lazarus, the network will show all events live rather than saving the best ones for primetime tape delay. NBC/Comcast beat out ABC/ESPN and Fox Sports for the rights.

EPL club Liverpool FC signed a $41 million per year kit deal with New Balance's Warrior Sports, breaking the previous record of $38 million annually set between Manchester United and Nike. Liverpool sells approximately 900,000 jerseys a year, fourth-most amongst international soccer teams and behind only ManU, Barcelona and Real Madrid.

UPS signed sponsorship agreements with 68 NCAA schools, valued at a total of $100 million over the next four years. The deal, which was brokered by IMG College, is being heralded as the largest non-TV network college sports sponsorship in history. By pooling multimedia and sponsorship rights, IMG College is revolutionizing the business of college sports.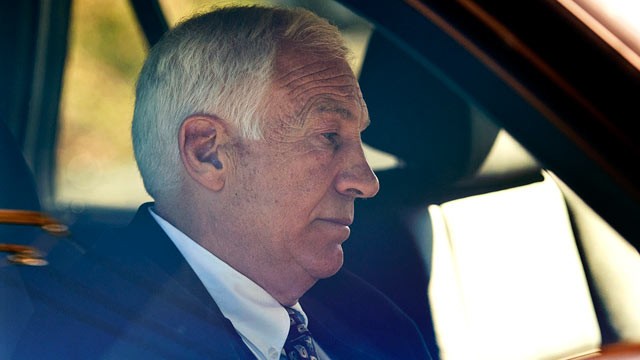 The Bad
If the 2011 sports calendar is remembered for anything in particular, it'll be as "The Year of the Lockout." For the first time ever, three collective bargaining agreements expired in the same year. Though Major League Baseball reached an extension with ease, the NBA and NFL both had prolonged lockouts before agreeing to deals.

As if the state of college sports wasn't hectic enough with NCAA investigations and conference realignment, no story is worse than the sex abuse cover up at Penn State. The scandal cost legendary football coach Joe Paterno his job and saw athletic director Tim Curley charged with perjury.

Nearly 1,000 fans were denied entry to Super Bowl XLV at Cowboys Stadium after the City of Arlington refused to issue a permit for some temporary seating. The Cowboys reportedly were warned in advance about a possible seating issue for the game. Arlington officials requested Super Bowl seating plans in September, but didn't receive a permit application until January.

Nassau County residents rejected a $400 million bond issue that would have built a new hockey arena and minor league baseball stadium. With the chances of landing a new arena all but dead, New York Islanders owner Charles Wang has indicated that the team likely will relocate when its Nassau Coliseum lease expires in 2015.

The inaugural NASCAR Sprint Cup Series race at Kentucky Speedway was marred with excessive traffic problems before and after the race. Several fans were stuck on the highway for more than six hours, and when they finally reached the racetrack, they were turned away because no parking was left. Kentucky Speedway officials are giving fans that missed the race free tickets to a future event.

The Creative
Two U.K. female beach volleyball players will sell advertising space on the backside of their bikini bottoms for the 2012 London Olympics. The players will have a QR code on their bikinis, enticing photographers and fans to take pictures of their butts.

In stark contrast to all other naming rights deals, MLS club Sporting Kansas City is paying Livestrong to put the cancer foundation's name on its new soccer stadium. The club plans to donate $8 million to Livestrong over the next six years. This is the first known naming rights deal in which the team is paying the sponsor.

Not only is the Pac-12 Conference creating its own national TV network, in a unique twist, the conference also is creating six regional affiliates. The networks, which will generate millions of dollars for the conferences member schools, will carry about 850 conference events annually.

Qualcomm Stadium temporarily changed its name to Snapdragon Stadium to promote one of Qualcomm's brands during the facility's busiest period of the year. Millions of people watched the two bowl games and San Diego Chargers game at the stadium over an 11-day period, giving Snapdragon great exposure.

EPL club Arsenal gave free tickets to its more than 3,000 fans who attended the team's 8-2 at Manchester United in August. The defeat was Arsenal's worst loss since 1892, and prompted club manager Arsene Wegner to issue a public apology to fans.
Looking forward to 2012, the London Olympics have the potential to be a huge success, while the Miami Marlins and Brooklyn Nets open new home facilities. The labor mayhem continues when the NHL's collective bargaining agreement expires. Regardless of how it all plays out, I wish you a happy, healthy 2012.