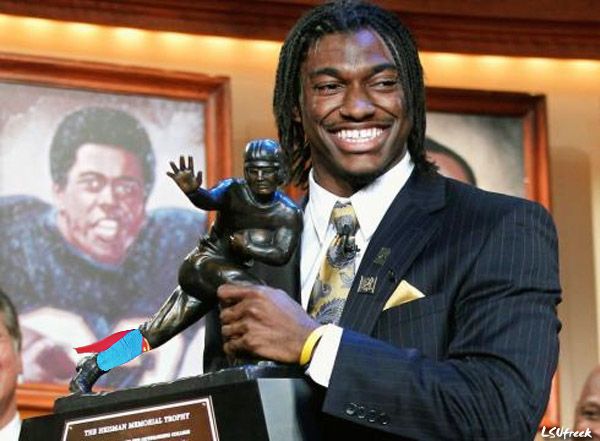 Robert Griffin III is the newest member of the Heisman Trophy fraternity. The Baylor QB last night was named the 77th winner of college football's most prestigious trophy. NFL analysts already are debating where RG3 could go in April's NFL draft. Though not all Heisman winners have succeeded in the NFL, some have received massive contracts on the pro level. Let's go Inside the Numbers to see the five biggest NFL contracts signed by Heisman trophy winners.
Starting with number five is 2005 Heisman winner Matt Leinart. His rookie contract with the Arizona Cardinals was worth $51 million over six years. Leinart, now playing for the Texans, never lived up to his billing and is out for the year after breaking his collarbone.

Following Leinart is his college teammate, Reggie Bush. Bush's rookie deal with New Orleans was for six years and $53 million. Unfortunately for Bush, he has the dubious distinction of being the only player in the history of the Heisman Trophy to forfeit the award.
Next is the only defensive player to win the Heisman Trophy, Charles Woodson. The veteran cornerback inked a five-year, $55 million dollar deal with the Packers, then went out and helped lead Green Bay to their 5th Super Bowl win. A fun side note – Woodson has intercepted four Heisman winners in his NFL career.
The runner-up on this list is St. Louis Rams quarterback Sam Bradford. The 2008 Heisman winner out of Oklahoma, Bradford signed the richest rookie contract in NFL history, a six-year, $78 million deal. With incentives, the contract has a maximum value of $86 million.
Finally, the most lucrative NFL contract signed by a former Heisman winner belongs to… Carson Palmer. Back in 2005, Palmer signed a nine-year, $119 million extension with the Cincinnati Bengals. Apparently, money doesn't buy happiness. Palmer retired this offseason rather than play another game for the Bengals. He's since been traded to Oakland, where the Raiders renegotiated his contract.